We Publish Every Month
Every month we publish a complimentary monthly real estate newsletter on the first of the month, covering a range of topics pertaining to real estate in Canada and the GTA. To check us out, simply fill out the form. We hope you will find our free newsletter interesting.
Subscribe to our Real Estate Newsletter Here:
Topics
We focus on topics such as:
real estate happenings in Mississauga, Oakville, and the Greater Toronto Area
new listings
market trends
house and condo prices
new condo openings
interest rate changes
mortgage financing
information useful to buyers
information useful to sellers
Publishing the Newsletter
We publish on the first day of every month. There is no cost, and you can unsubscribe at any time.
So welcome aboard! We hope you enjoy our monthly real estate newsletter, and find it both interesting and valuable. We look forward to serving you every month!
This Month's Real Estate Newsletter
April, 2021
Mississauga vs. Brampton vs. Oakville
As we begin the second quarter of 2021 the market continues on its winning ways, and I thought it might be interesting to take a look at one pocket of the GTA, and compare how the real estate numbers stack up in the big three western suburbs of Mississauga, Brampton, and Oakville. In the chart below, we can compare sales numbers, sale prices, the average selling price compared to the asking price, and the number of days that it took to sell. Out of a mountain of data that we get from the Toronto Regional Real Estate Board, I have selected only information about detached houses and condo apartments.
Although today is April 1, data for the month of March has not yet been released, so we will be working with numbers for January and February, 2021 for this exercise. Have a look!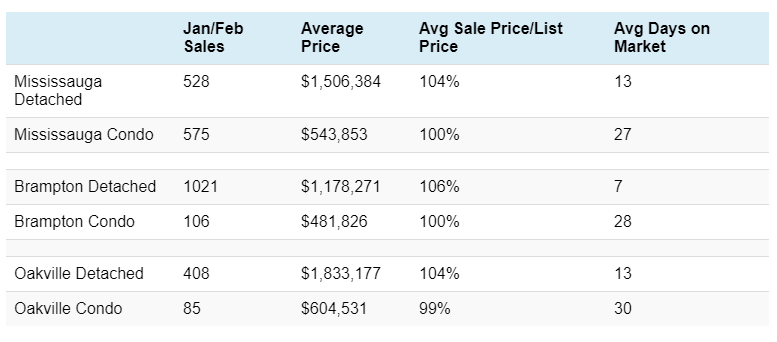 A few things caught my eye:
the astounding number of sales of detached homes in Brampton compared to the other two cities – Brampton is the hottest market!
the differences in average price for detached homes, roughly $1.2M for Brampton, $1.5M for Mississauga, and a very lofty $1.8M in Oakville
the much larger number of condo sales in Mississauga compared to Brampton and Oakville
the variance in time it took to sell for condos vs. detached, roughly one month for condos, versus 1-2 weeks for detached homes
It should be noted that the numbers we are using here are averages, which can be affected by a few high or low sales. Also worth noting, in the last few weeks the condo market has begun to improve, so you might see shorter selling times and higher prices for these going forward.
This month's info was designed to appeal to the inner statistics geek in many of us, and I hope you find it both interesting and informative!
Best regards,
Randy
***
Randy Selzer, salesperson, Sutton Group-Summit Realty Inc., brokerage, independently owned and operated, 416.433.3556 direct 905.897.9555-office
What's your Home Worth in Today's Market?
If you own a stock, you can probably go online and quickly look up its current value.
What about your home? That, too, is an important investment and probably your most valuable one. Wouldn't it be nice if you could "look up" its current value in just a few minutes?
Well, despite all the real estate data available on the internet these days, there is no site that will calculate your home's true market value – at least not accurately. So, if you were to put your home up for sale tomorrow, how would you determine what it would likely sell for?
Your home's probable selling price is influenced by the following factors:
The type and style of your home.
The condition of your home. (Is it "move in" ready?)
How well your home shows? (Is it staged?)
The desirability of the neighbourhood.
Recent selling prices of similar homes in the area.
The current demand for a home like yours.
All these factors, especially recent solds in the area, need to be considered in order to come up with the price range within which your property will likely sell.
Why is this information important? If you plan on listing soon, the benefits of knowing the probable selling price is obvious. But even if your plans to move are far down the road, it's still a good idea to know what your home is worth – today. That information enables you to plan ahead and make better decisions. It's something worth thinking about.
If you want to sell your current property and purchase your next dream home, you might be wondering whether the closing dates need to be on the same day.
Should You Worry About Competition?
Buying a home is different than purchasing most other "products" in one important respect: agreeing to the price tag doesn't guarantee you'll get the property! There may be competing offers.

Fortunately, there is plenty that can be done to increase your chances of getting the home you want.

The most effective strategy is to be proactive. Get alerted to and go to see properties that match your criteria the moment they come on the market. That way, you'll get a jump on competing buyers. When you find a home you want, go in at the right price. You don't want to pay too much, but your offer does need to signal to the seller that you're serious.

Effective offer presentation and negotiation also play vital roles. Having your offer presented with expertise and skill will maximize your chances of getting the deal.

Yes, competing offers can make you anxious. But, if you have the right expert working on your behalf, you can breathe a little easier.
When you decide it's time to install or replace a deck surface, you may find there are more choices than you had expected. There are many new materials and installation options that have come to the market over just the past few years.
For example, in addition to traditional wood decking, there are contemporary synthetic and composite materials that possess properties that are remarkably similar to natural wood species – in terms of texture, appearance, density and workability. However, these materials offer superior durability in tough weather conditions and a wider range of colours than natural surfaces.
In addition, manufactured decking surfaces provide barefoot comfort without worry of splinters, as well as water-shedding properties that help improve traction after a rainstorm.
Synthetic materials are also very popular when it comes to railings and steps thanks to innovative installation systems that are easy enough for most industrious homeowners to tackle. Many offer pre-cut and/or interlocking pieces. As well, certain aluminium installations are enjoying renewed popularity thanks to new options that are clad in vinyl for extended protection and reduced maintenance.
Subscribe to our Real Estate Newsletter Here:
category: real estate newsletters canada
Summary
Article Name
Real Estate Newsletter Subscription
Description
Subscription for a real estate newsletter provided by Randy Selzer, realtor in Mississauga, Ontario, providing insights on the real estate market. house and condo prices, financial trends.
Author
Publisher Name
Publisher Logo